First of all, her voice is amazing. If you've only her her sing "Que Sera Sera," do yourself a favor and listen to anything else she sings.
Second of all, I've never seen a star or other person that has the same personal qualities that she has. She is feminine, but she also has a distinct air of tomboy about her; she's not delicate, but she's not clunky either; she's often a goof, but she's never ridiculous; and to top it off, it amazes me how she always come across as genuine and how much joy can radiate from her face.
There's a bit of buzz out there about her right now, because in honor of her 88th birthday Turner Classic Movies is playing a great deal of Ms. Day's movies on their channel this month, they've released a special box set of her movies, and they released a new album of her love songs. (All Doris Day merch is on sale at
TCM.com
.) Ms. Day even did a rare interview with Teri Gross from
NPR's
Fresh Air.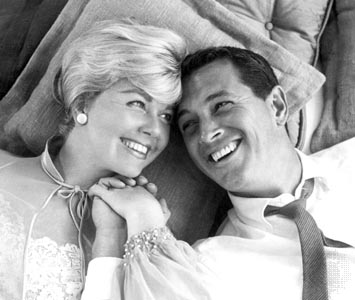 Doris Day and Rock Hudson from Pillow Talk
Of her movies that I've seen, my favorites include
That Touch of Mink
,
Calamity Jane
(it's pretty silly),
The Man Who Knew Too Much
, and
Pillow Talk. (
Please don't watch
The Pajama Game
, it's one of the worst movies I've ever seen, and her only total flub as far as I can tell.)
Don't you love that giant sequin bow?
I watched Ms. Days'
Lullaby of Broadway
for the first time last night, and there was an absolutley charming dance number involving a set of glass doors. She's dancing with Gene Nelson, who you may recognize as cowboy Will Parker from
Oklahoma!
Unfortunately I couldn't find a video that included a reprise of the glass door dance by the two older men watching.
And finally here are some Doris Day facts you may not know:
1) Ms. Day was first discovered as a partnered dancer. Sadly he was in a terrible car accident that shattered her leg, and the leg took several years to heal. Although she always sang, it was while she was bed-ridden that she really began to sing in earnest.
2) She currently lives in Carmel, California, and her home is basically an animal shelter. At one point she had over 30 dogs, not to mention other animals, at her home.
3) According to
TCM.com
, Ms. Day still holds the record for the top female box-office star of all time.
4) One of her husbands, who was also her manager, squandered all her earnings and left her deeply in debt. There was a huge lawsuit with subsequent lawsuits that followed for years.
5) She got to kiss Howard Keel in
Calamity Jane
. Lucky. (Not to mention James Garner, Rock Hudson, and Cary Grant.)
6) Her face is
covered
with freckles. I saw a candid picture of her once that displayed her glorious freckles. She was without make-up, the sun was shining through her for once under-styled hair, and she was laughing right into the camera. I've tried to find that picture many times since that first sighting, but I've had no luck. You can kind of get the idea with the picture below, and she obviously passed her freckles to her son.