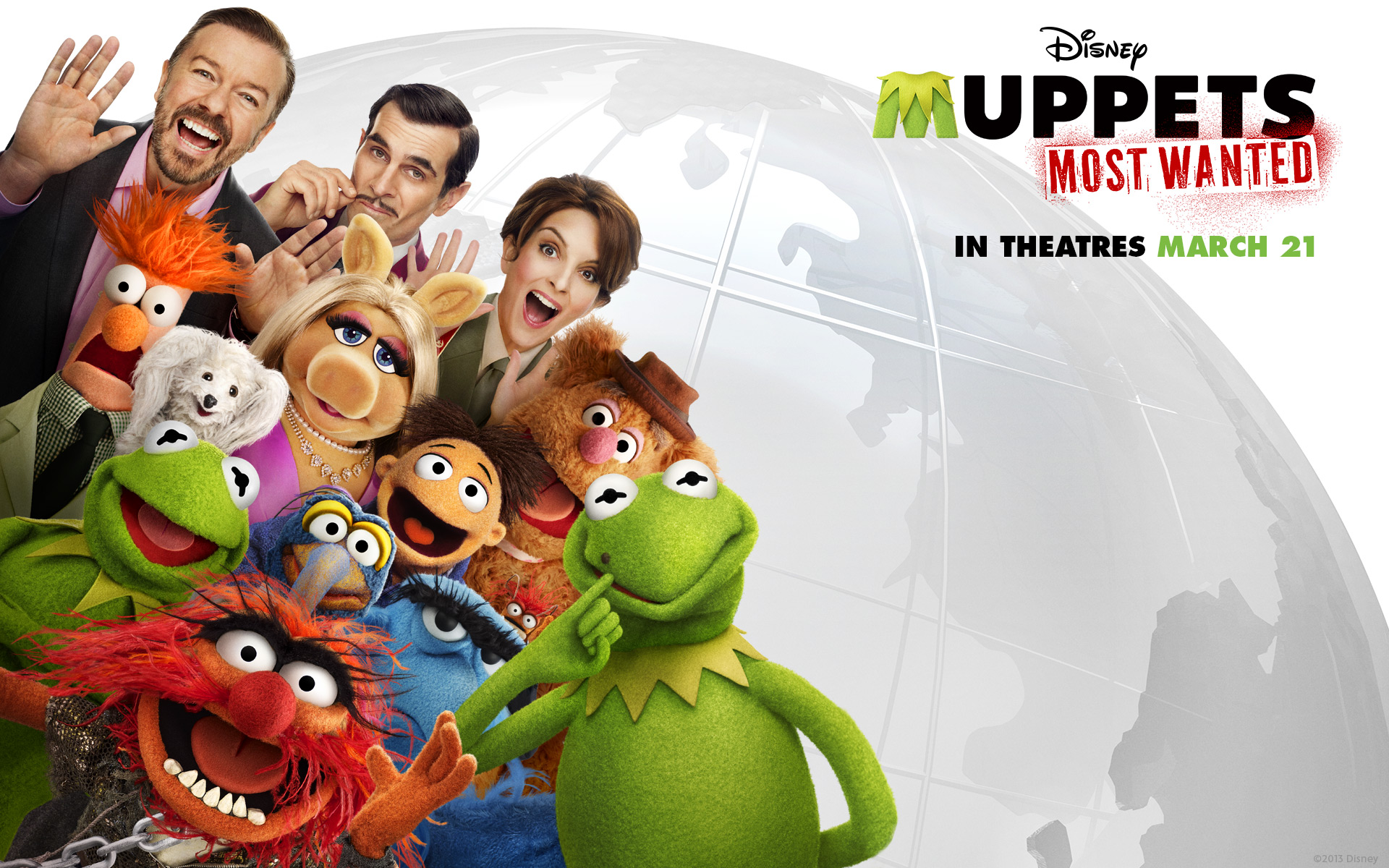 I'm a Muppets fan. I grew up watching the show, and
The Great Muppet Caper
is still one of my all-time favorite movies.
However, the recent reboot of Muppet movies has not tickled my Muppet funny bone. I liked The Muppets just fine. It wasn't great, but it wasn't horrible. And that's pretty much how I felt about Muppets Most Wanted.
The one thing that this movie did better was actually casting people who can passably sing and do basic dance moves, unlike Jason Segal. (Plus Jason Segal always kind of creeps me out a little bit for some reason.)
You might think Ricky Gervais would be a terrible lead, but to my relief he did not play Ricky Gervais. (I have no beef with Gervais, but it's often my fear that well-known comics just end up playing exactly the same character whenever they are cast. I'm looking at you, Will Ferrell.) Plus he started his career in a band, so his voice was decent to good in the one song he sang.
With that introduction, here are four reasons to see the movie and three to not see it. Or at least three reasons to manage your expectations.
1. Costumes: Ty Burrell's suit is absolutely spot on (bless you, Brooks Brothers) and Tina Fey's Russian uniforms are spectacular. Even Miss Piggy was rocking it with her British houndstooth tweeds and her sequined wedding dress.
2. Music: Bret McKenzie once again wrote a handful of original songs for Muppets Most Wanted that are infectious and fun. Among them, an excellent doo-wop number and a very Flight of the Conchords number called "I'll Get You What You Want." Plus, the Muppets do The Muppet Show opening in Spanish at one point in the movie, including flamenco guitar.
3. The Gulag: All the scenes and actors associated with the Gulag are delightful. Tiny Fey is the perfect iron fist. Additionally, Ray Liota, Danny Trejo and Jemain Clement each bring their own brand of delight to their roles as lead prisoners.
4. Cameos: There were some seriously awesome and unexpected cameos from James McAvoy to Hugh Bonneville (with an Irish dialect!) to Saoirse Ronan to Tony Bennett. However, see blow for the other side of this coin.
1. Cameos: Some of the cameos were great — the stars had lines and their appearances lasted more than 20 seconds. Some of the cameos were ok, they had lines, but it lasted about 20 seconds. Some of the cameos were wasted. I mean, who gets Tom Hiddleston to do a cameo then decides to only have him on screen for literally 15 seconds with no lines? At least he got to do a funny bit. But poor Russell Tovey got the shortest end of all the sticks. He had a line, but his face was in view for about 3 seconds and he got no comedy bit.
2. Plot:
I know, of course the plot is going to be formulaic, it's a Muppet movie. They want to perform, they somehow divide as a group and may not perform, they have to remember to stick together as a family and work hard, and then they get to perform.
However, it always surprises me that there's a chunk somewhere in the middle of these reboots that seems to drag on forever. I mean, they're Muppets, tell more jokes or do more gags or something.