Boy-howdy, the drama for the Fashion Face Off challenge! They did this challenge during the last regular season and I hoped it would be back. Two designers were assigned to one season (winter, spring, summer, fall) and were in direct competition with each other. Each season had one winner who was in the running for winning the entire challenge, and the other was in danger of going home. Of course this type of pressure will bring out some drama.
Winter was chosen by Michael and Jerell.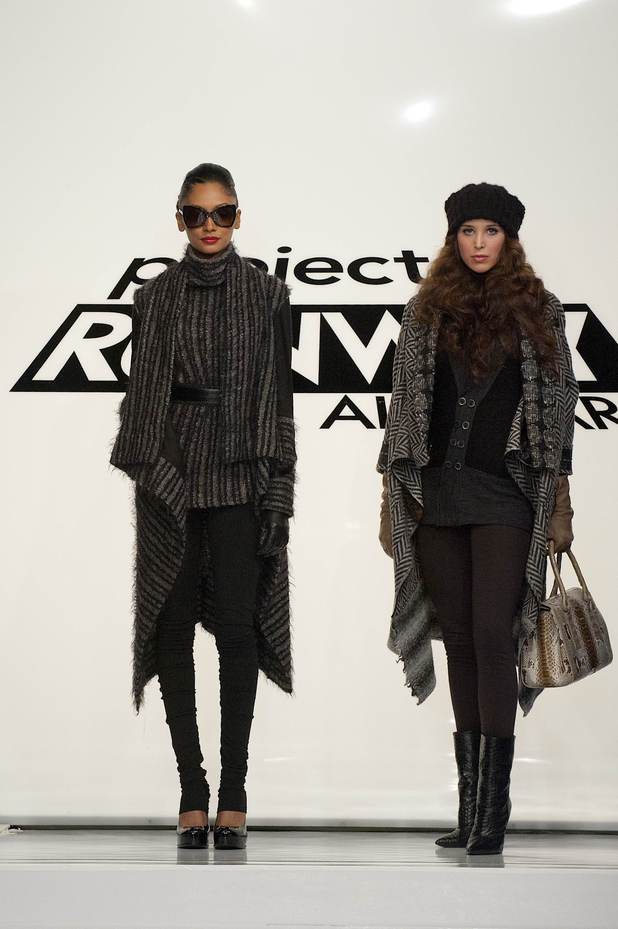 Michael's left; Jerell's right.
There were thoughts and accusations that Michael plagiarized Jerell's design. While Jarell's and Michael's designs do have silhouette similarities, they do not look designed for the same customer. Furthermore, they bought their fabrics independently, so the similar color palette is coincidence, and, let's be honest, a common palette for winter. So everyone calm the eff down.
The truth is that this is the best design I have seen from Jerell and my favorite from the challenge. (I feel sheepish saying that, but I'm guessing it's probably one of those exception-proves-the-rule things?) I love the giant herringbone fabric and that he used at least three different fabric patterns in the coat. And I always like a retro-inspired cardigan. He won the face off and the entire challenge.
Spring was chosen by Kara and Austin.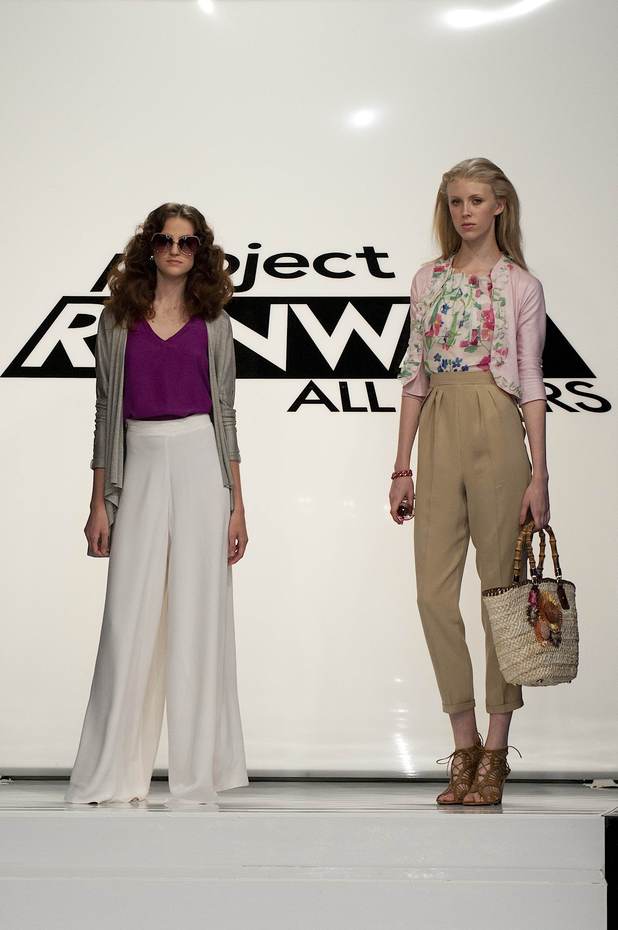 Kara's left; Austin's right.
I found Austin's outfit to be a bit frightening and not fondly reminiscent of Molly Ringwald in Pretty in Pink. The judges oohed and aahed over the pants, but I just don't feel right about pleated pants. They're dandy for a rail-thin model, but an odd and unflattering choice of most women. Also, the model's hair was horrific. Austin was very close to going home on this challenge
Kara's outfit won the face off. Unlike Isaac I actually liked the color combination well enough and found nothing offensive about the outfit. She was going for a Miami look, and it looks like a subdued Miami to me, but Miami nonetheless. (Side note: Don't you love that "nonetheless" is one word? It pleases me so.)
Summer was chosen by Mondo and Kenley: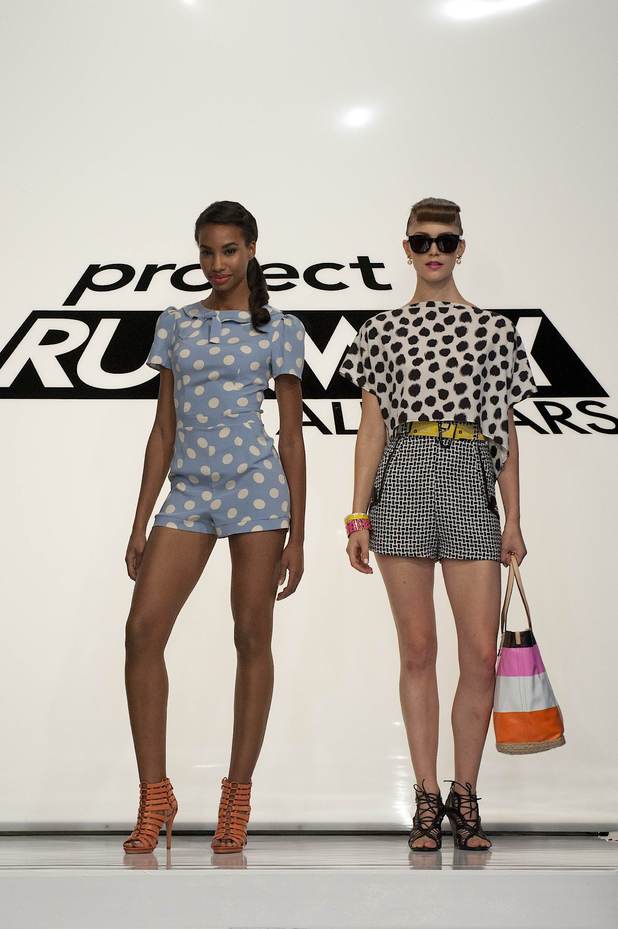 Kenley's left; Mondo's right.
They judges really hated Mondo's outfit, but I'm not really sure why the criticism was so intense. Those shorts with the yellow belt were adorable and perfect in construction. (Ms. Rowley have different ideas about Mondo's shorts, but I respectfully call her out as a fashion charlatan.) Sure, the top wasn't his best, and the styling was a little heavy handed, but there was nothing terrible about it.
What's terrible was Kenley's romper that won in the face off. She always does these patterns and polka dots, but never attempts to match the pattern. (It's not always appropriate to match the pattern, but she should have in at least three challenges so far.) I was glad to hear that the judges know she is a one-trick pony. That gives me hope for her prompt dismissal.
Fall was chosen by Mila and Rami.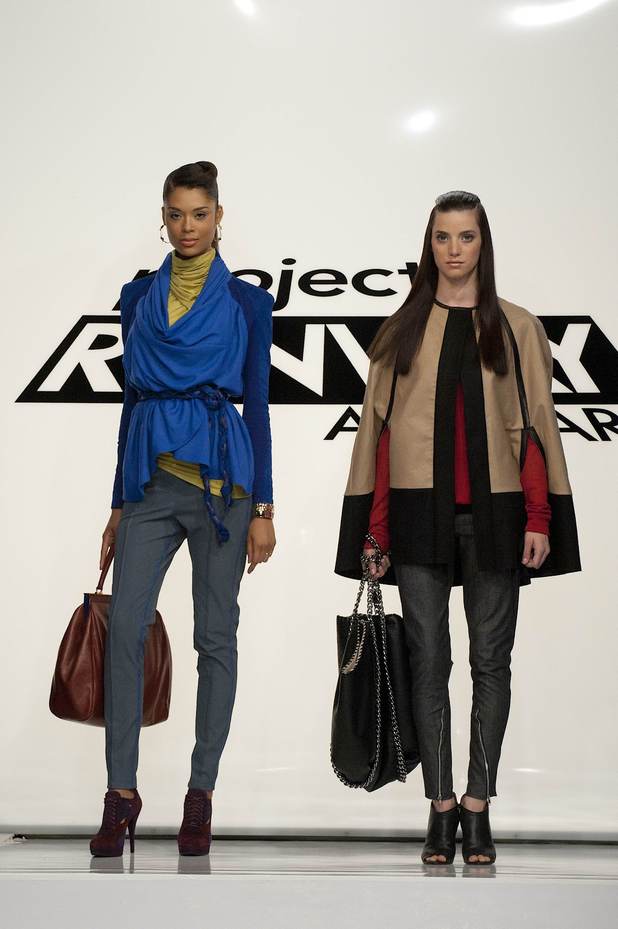 Rami's left, Mila's right.
I was bored by both these designs, but Mila's won the face off. The judges thought Mila's cape looked cheap, and I agree. Additionally the fit of the pant and top looked sloppy on the runway in juxtaposition to the cleaner lines of the cape.
Although I didn't love the shilhouette, the blue of Rami's cardigan with the suede details was lovely; I love a change of texture but not color in the same garment. But his green top was again terribly overwrought and bulky, not to mention his ill fitting pants. I wasn't surprised he went home this week since his past few designs were not pretty.